Travel Tips Quarterly

Trusted Tips from Your Travel Professional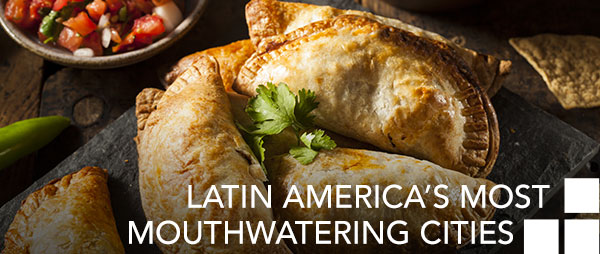 Most people visit Latin America for its sprawling coastlines, mountain vistas, spicy culture and lush rainforests. However, it's the vibrant, bold, down-right-delicious food scene that keeps them coming back. From piping hot empanadas plucked from a street cart to tart ceviche enjoyed with an ocean view, these cities provide inspiring cuisine.
Buenos Aires, Argentina - Buenos Aires derives its incredible cuisine profile from a mix of Latin and European influences. Mostly known for beef, its world-famous Argentinian steak can't be missed. Pick up a breaded meat fillet, known as a milanesa, from a street vendor or sink your teeth into the perfect cut of tenderloin at Cabaña Las Lilas, one of the city's famed eateries.
Cartagena, Colombia - Any visit to this great walled city must include ample samplings of the street food, starting with the arepa. These soft baked corn pancakes are packed with a dazzling array off luscious fillings, ranging from melted cheese and steak to sweet dulce de leche. Along with arepas, the street food scene is buzzing with out-of-this-world dishes like chorizo kebabs, fresh squeezed juices, fried green plantains called patacones and tart, zesty ceviches.
Lima, Peru - Arguably one of the top culinary destinations in the world, Lima blends Incan, European and Japanese influences to create dishes with a seriously intense flavor profile. Visit the best-rated restaurant in Latin America, called Central, where you can enjoy beef ribs with blue-green algae or a coca leaf Pisco Sour. Thanks to the influence of Japan, make sure to try taradito, the city's take on sushi, or succulent noodle bowls.
Mexico City, Mexico - To get a taste of everything the City has to offer, take a food tour with Eat Mexico - which will introduce you to antojitos, the "little cravings" street vendors hawk, as well as take you through the culinary hub of the city, the Mercado de San Juan. Definitely try a traditional taco, which will be the best you've ever had, but also step outside your comfort zone with a soft corn tortilla filled with grilled or fried bugs - it's a Mexico City staple!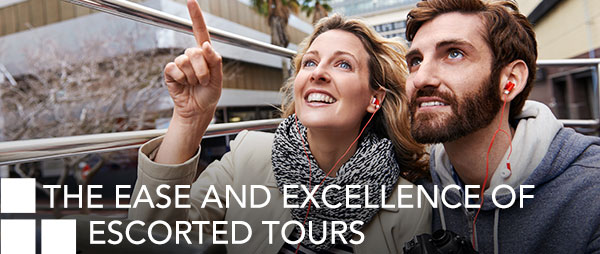 The advantage is clear: you choose an escorted tour to travel stress free. The tour company handles the transportation, daily sightseeing and the local guides, leaving you to absorb as much of the destination as possible. If this sounds like an appealing way to travel, consider these factors before choosing your tour destination.
V.I.P. Access - Line cutters rejoice! Tour groups are often escorted straight to the main entrances of major attractions and ushered directly inside without waiting in line or having to buy individual tickets.
Themes - Some tours are based around a theme, such as wine, gastronomy, hiking, golf, even the sparkling, seasonal Christmas Markets. If you're looking to make some new friends who share a common interest, look no further.
Age Range - Escorted tours generally attract seasoned travelers who enjoy hassle-free experiences. If the tour has a high activity level with long hikes, then chances are the average age will be on the south side of 50.
Exotic Destinations - Escorted tours are ideal for going more afar than you typically would on your own, to places where the customs and languages are completely foreign and the camaraderie of the tour group is comforting.
Questions Answered - Anytime you experience an international destination, your mind is filled with a thousand questions per minute about all of the new and exotic things you see, hear and smell. Thanks to your local tour guide's constant presence and regional knowledge, you learn the answers to all of your questions and more.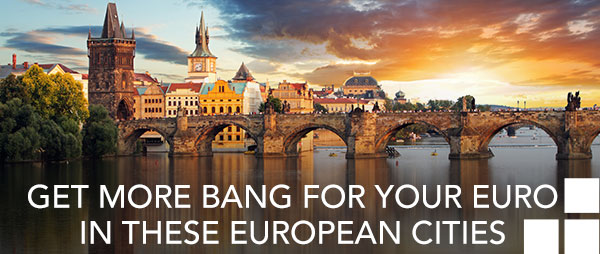 Not often touted as a budget destination, there are a surprising number of cities in Europe that cost far less than you think to visit. To stretch your travel euros further, skip the traditional jaunts to Paris, Rome and London and visit one of these just as charming, slightly unchartered and equally breathtaking cities instead.
León, Spain - A far cry from the prices of more popular Madrid or Barcelona, León has some of the least expensive food in the entire country. After visiting the city's famed cathedral, stop for a drink and enjoy tapas and a glass of Rijoa wine for as little as one euro. Experience the culture of the city with a self-guided tour to the picturesque old quarter, known as the Barrio Humedo, or through the Palace of the Guzmanes, a 16th-century palace now home to the City Council.
Krakow, Poland - If you're into drinking and nightlife, Krakow is your place - featuring more pubs per square kilometer than any other city in the world. For perspective, you can sip on Belvedere vodka in one of the city's trendiest nightclubs for less than four euros. Beyond drinks, there's plenty of free sights and architecture to see in the Medieval Old Town, like the Royal Castle of Wawel, and in the Jewish quarter of Kazimerz, home to some 150 synagogues and churches and over two million works of art.
Budapest, Hungary - Built on a natural thermal spring, Budapest has long been a place people flocked to for spa treatments and soothing mud baths. Despite many luxury spas, there are quite a few that have bath tickets with cabins or lockers for as little as 17 euros, like the famous Szechenyi Baths or 16th-century Csazar Baths. Beyond mud spas, you can take an affordable bus tour through the hilly, historic Buda side of town and a self-guided walking tour through the modern Pest side to see the fascinating contrasts between old and new.
Prague, Czech Republic - Despite being one of the most popular tourist destinations in Europe, the prices in Prague have remained reasonable, with four-star hotels costing around $100 USD per night. Plus, the city boasts a vast array of free activities, including a visit to the gothic St. Vitus Cathedral built in 1344, a Jewish Quarter with a fascinating history, the Vysehrad 10th-century castle, Moser Glass Factory and more. For locals, their favorite low-cost activity is packing a picnic and gazing over the city from Perin Hill.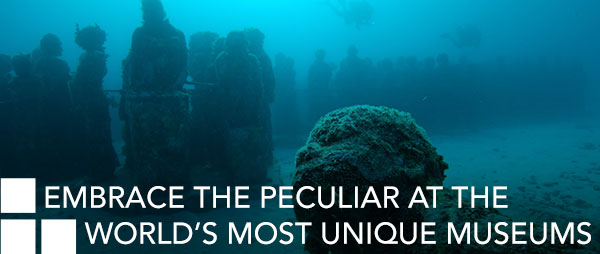 Museums offer wondrous insights into culture, but sometimes it's hard to get excited about shuffling quietly through yet another velvet-roped hallway, standing several feet away from prized artifacts while being closely watched by stern-faced security guards. If you're ready to add a little shock to your awe, consider visiting one of the following museums instead.
El Museo de las Momias (Museum of the Mummies): Guanajuato, Mexico
Mortality is on full display at the Mummy Museum, where the decayed remains of hundreds line the walls to haunt your vacation for a few hours. Here, the line between life and death is glass thin, yet the resulting effect on visitors is dramatically inspiring.
Museum of Broken Relationships: Zagreb, Croatia
Heartbreak is a gripping storyteller, and those stories are artfully displayed at this award-winning museum. You'll find such relics of emotional collapse as video confessionals, a garden gnome used to smash a car window, and an axe that helped one jilted lover dismantle her ex's furniture.
Museo Subacuatico de Arte (MUSA): Cancun, Mexico
Not only will you need a ticket to enter MUSA—you'll also need scuba gear. While floating around this aquatic art gallery, you'll find 500 sculptures up to 20 feet deep, all of which are slowly turning into coral reefs.
British Lawnmower Museum: Southport, England
Did you know that Princess Diana owned a lawnmower? You would if you visited the British Lawnmower Museum, which showcases the past, present and future of these landscaping yard cruisers.
Museum of Medieval Torture Instruments: Prague, Czech Republic
If "Iron Maiden" makes you think of the spiked body cabinet instead of the English metal band, then this is the museum for you. Sixty fascinating torture devices are on display, each with a useful tutorial on how they were used to extract top secrets from enemy spies.